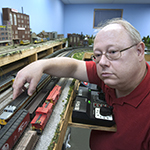 By Louis H. Showers
Somewhere along the line, God must have made a "model railroad gene," and when He designed me, He included it in my DNA. From my earliest memories I have had a love for model trains. The first Christmas gift that I remember was a wooden toy train that I pulled across the floor. In kindergarten, my favorite toy was a wooden train set, and that Christmas I graduated to my first electric train set. In third grade I moved up to a used Marx O gauge set, and in sixth grade I received a Lionel set that grew with future Christmases and birthdays. While I was in junior and senior high school, my music teacher, an avid model railroader, would often share both his interests as well as his hobby magazines.
A Basement with Potential
Though trains took a second seat to college, seminary, and marriage, I returned to them in my first pastorate in 1982, when I converted an old coal bin into my first HO train layout. (With a scale of 1:87.1, HO is the most popular model train layout in the world.) My next two churches provided limited rooms for layouts, and the responsibilities of being a pastor and a parent never seemed to allow me the opportunity to do more than lay track, run trains, and assemble an occasional building kit. However, God had kindled that love for trains in me and used that time to hone my skills to prepare me for His marvelous future plan.