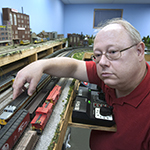 By Louis H. Showers
Somewhere along the line, God must have made a "model railroad gene," and when He designed me, He included it in my DNA. From my earliest memories I have had a love for model trains. The first Christmas gift that I remember was a wooden toy train that I pulled across the floor. In kindergarten, my favorite toy was a wooden train set, and that Christmas I graduated to my first electric train set. In third grade I moved up to a used Marx O gauge set, and in sixth grade I received a Lionel set that grew with future Christmases and birthdays. While I was in junior and senior high school, my music teacher, an avid model railroader, would often share both his interests as well as his hobby magazines.
A Basement with Potential
Though trains took a second seat to college, seminary, and marriage, I returned to them in my first pastorate in 1982, when I converted an old coal bin into my first HO train layout. (With a scale of 1:87.1, HO is the most popular model train layout in the world.) My next two churches provided limited rooms for layouts, and the responsibilities of being a pastor and a parent never seemed to allow me the opportunity to do more than lay track, run trains, and assemble an occasional building kit. However, God had kindled that love for trains in me and used that time to hone my skills to prepare me for His marvelous future plan.
About a year and a half before God moved my wife and me to our present congregation, He impressed upon my heart something out of the ordinary. "Lou, wouldn't it be great if you owned your own home with a basement room to build your dream layout?" At first I thought I was just doing some wishful thinking; however, I could not get away from the idea that this was God's desire. When I was called to pastor in Washington, Indiana, we had to buy a home for the first time. Though we viewed many homes, none had a suitable room for a train layout. I began to question whether God really wanted me to have a model railroad. Pulling into the driveway of the last house on our list, I thought this house did not look promising. But when I entered the basement, I discovered a large unfinished room that had the potential to be a perfect train room. As I looked at the room and the rest of the house, God confirmed to me that this was the place He had spoken about a year and a half earlier.
We bought the house and spent two years repairing and upgrading. Finally it was time to get started on my dream layout. Since I have always believed and preached that all aspects of our lives belong to the Lord, I asked the Lord for two things: to help me with the design and building of the layout so it might meet my expectations and to use this layout in some way to serve and glorify Him. After I'd been working on it for six years, it was clear that God had answered my first request.
A Biblical Principle
In 1 Corinthians 10:31 Paul writes, "Therefore, whether you eat or drink, or whatever you do, do all to the glory of God." The word whatever speaks of anything an individual might do. It encompasses the totality of the human experience, including a person's interests and pastimes. The word glory speaks of bringing honor to God. When we combine these two terms, we must conclude that all we do in this life has the potential to glorify God. Add the imperative of the verb do, and we find it is our mandate from God to find ways to glorify Him with every aspect of our being.
This commission is not isolated to one passage, but is a central theme that runs from the beginning of Genesis through the end of Revelation. This theme is better known as the Great Commandment (Deut. 6:5; Matt. 22:37) by which we are called to love the Lord our God with every aspect of our being. Paul speaks of it as an important facet of his ministry, for he writes, "I have become all things to all men, that I might by all means save some" (1 Cor. 9:22, 23, italics added). Later he writes, "But in all things we commend ourselves as ministers of God" (2 Cor. 6:4, italics added). Peter understood this commission when he wrote, "If anyone ministers, let him do it as with the ability which God supplies, that in all things God may be glorified through Jesus Christ, to whom belong the glory and the dominion forever and ever. Amen" (1 Pet. 4:11, italics added).
I have no question that most Christians are aware of this calling and have embraced it to one degree or another. I believe, however, that we often fall into the habit of limiting this principle to only those areas that have been traditionally understood as Christian service. In doing so, we exclude other areas that have equal potential to glorify God. Let us remember that in the parable of the talents, the Lord expected that when He returned, He would find not only His original talents but also the profit that came from the use of those talents. If we do not consider all aspects of our being as an opportunity to serve our Lord, the increase we present our Lord at His coming will be diminished.
A Model for Outreach
Now let me return to my own experience to illustrate how my hobby, placed in God's hands, resulted in many opportunities to minister to others and glorify Him. Six years into the ongoing construction of my dream layout, God began to answer my second prayer. I say "began" because He continues to use it to this very day.
Washington has an annual Rail Fest in May. I contacted the chairman to see if he would be interested in having me open my layout to the public. Since there are few model railroaders locally and even rarer, layouts, he quickly embraced my offer. As we met to talk about the details of the festival, God opened an opportunity to share the gospel with him and three others.
The local newspaper caught wind of what I was doing and published a large, full-color front-page article on my trains and background, which included information about my ministry and church. As people came through the door for the open house, I was able to hand out tracts and information about the church. Likewise, I have found that as people drop in to see the trains, the conversation will often open up to spiritual things, including the gospel. After the first open house, I found new doors of opportunity opening in my community. Conversations will often start out like this: "So you're the pastor with all the trains in his basement!"
A year later my train layout was featured in All Aboard, the Railroad Evangelist magazine, along with my testimony of how I came to Christ. God then opened an opportunity to share my train story on a model railroad website that included links to my church's website, where the gospel is clearly presented. From that site every month, many visit our church's website and, hopefully in the process, learn about salvation through our Lord and Savior Jesus Christ. Putting photos and a couple of videos of my trains on our church's website has also been a great tool to get people to check out our church online. If only I had the space here to share all the ways God has continually used this hobby to glorify Him!
A Challenge
To help me drive this principle home to my congregation, from time to time we have a talent night at church. We do not limit the talents to just those that are a usual part of our Christian service. We invite everyone to bring something that represents the talents and interests God has given them. We set up tables in the foyer for everything that people bring in. One man brings in some marvelous paintings, another his collection of metal cars, others their cross-stitch or dollhouses, and the list goes on. We celebrate the marvelous gifts, talents, and interests that God has given. In the process we ask that God will turn these gifts into tools for His service.
What are your hobbies? What are your interests? What do you enjoy as a pastime? What are your passions in life? Have you ever considered them as a potential avenue of serving and glorifying our Lord? Have you ever asked God to give you opportunities to use them to minister to others? Why not start today!
Louis H. Showers (MDiv, Grace Theological Seminary) pastors Grace Baptist Church, Washington, Ind. He and his wife, Wanita, have two adult children.