How did the majority justices of the Supreme Court rationalize their decision on same-sex marriage? "Same-Sex Marriage—Now What?" by Glen Lavy gives perspective and practical …
An old Chinese proverb states, "Learning is like rowing upstream: not to advance is to drop back."
I am thrilled that Regular Baptist Ministries provides opportunities for you to advance, not only in your personal enrichment, but also in ministry development. Three excellent online offerings are available this fall through our Regular Baptist Web Community. The instruction will be so personal that you will feel it was specifically designed with you in mind.
In the classic musical Singin' in the Rain, the lead character, movie star Don Lockwood, offers reporters a quick, cleaned-up version of his early experiences in show business while, through flashback, viewers see the funny, undignified realities behind the carefully crafted legend.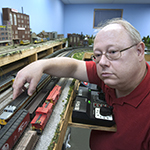 Somewhere along the line, God must have made a "model railroad gene," and when He designed me, He included it in my DNA. From my earliest memories I have had a love for model trains. The first Christmas gift that I remember was a wooden toy train that I pulled across the floor.
Regular Baptists are firm believers in the pretribulational Rapture, the view that Jesus will return to rapture His church before the seven-year tribulation period begins. But in recent years, this doctrine has been attacked relentlessly.
If you lack wisdom, how do you get it? You are probably thinking, By asking God for it. Why? Because James 1:5 promises that if you lack wisdom and in faith ask for it, God will give it to you. Now what about leaving a legacy? Will you, a righteous person because of your standing in Christ, leave a lasting influence on others? Does Proverbs 10:7 promise that others will be blessed by remembering you?
Baptist fundamentalism was in decay and decline. Conservatives were fracturing away from one another, unable to arrive at any organizational unity. Educational institutions were splintering and struggling to stay open. Disputes over ministry methods and doctrinal issues obstructed fellowship. The pressure to conform to the approach of seemingly successful leaders in broader evangelicalism was strong.
"I have been crucified with Christ," the apostle Paul wrote. "It is no longer I who live, but Christ lives in me; and the life …