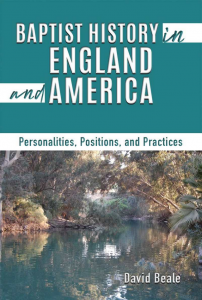 Baptist History in England and America: Personalities, Positions, and Practices
AUTHOR: David Beale
PUBLISHER: Xulon
FORMAT: Paper, ebook
As Baptists, we have a rich history. Our forebears held to the Bible as their sole authority for faith and practice. They believed that Christians owed their allegiance first to God and then to the sovereign. They affirmed that baptism was rightly administered only to believers and by immersion. It was opinions like these that, in many cases, cost our ancestors dearly. They were beaten, denied civil rights, taxed to support a church other than their own, and incarcerated for the crime of preaching the gospel. Some died, but many suffered. Our church members generally know these facts of our faith, but the details of how our faith was shaped, those who led in the shaping of the Baptist way, and the men and women who stood when their beliefs were threatened by king or clergy are less well known. Plus, some people joining our churches have little or no acquaintance with our movement's noble heritage. Why is it that many do not know, and how can we raise awareness of the grand company in which we stand?
One difficulty in surveying Baptist history is trying to cover 400 years of history in a single volume. What should be discussed, and what omitted? This dilemma has resulted in weighty books exceeding 800 pages or selective treatments that narrow the discussion of Baptist history to representative groups—for example, Southern Baptists or American Baptists. Other books are perspectival treatments—for example, the British tend to focus on their world, Southern Baptists on theirs. These are not faults, only realities of modern Baptist history. Then along comes a book that seeks to be evenhanded, covering the broad contours of Baptist history equally well.
Such is the recent contribution by David Beale, retired professor of Baptist history at Bob Jones University. Having spent his entire teaching career rehearsing for his students the people and positions of those who identified themselves as Baptists, Beale is well suited to offer a comprehensive study of Baptist history. This book would be appropriate for any church, Sunday School class, or Bible institute that wishes to go deeper into the Baptist way, its people, and its positions.
Beale limits his focus primarily to British and American Baptists. Despite this limitation, the work is still more than 600 pages. But the details are well researched and the narrative is well written and engaging. Beale carries the reader along the journey as Baptists developed first in England and then in the colonies. Major figures (John Bunyan, William Carey, Charles Haddon Spurgeon, etc.) get the greatest detail. The story line focuses on the development of Baptists as a movement, a distinct people who tenaciously held to the Bible way. The reader is not bogged down with details of minor permutations of Baptist identity. Beale is selective in the persons he chooses to highlight. This selectivity keeps the book from being heavy and dull.
Theological issues that Baptists are known for also get appropriate treatment when necessary. When a conflict arises (e.g., hymn-singing, Calvinism, liberalism), Beale discusses the dispute with enough detail to satisfy the curious reader. For those who wish to dig deeper, Beale provides bibliographies at the end of each chapter to point the reader to sources offering more information. Beale also provides helpful travel details of important Baptist-history sites in England and the United States that the reader may wish to visit on a journey of discovery. Beale notes their locations and their significance, and in some cases he suggests how to access a site on private property.
One might quibble with what Beale included or omitted, but if he had been thorough, the work might have exceeded 1,000 pages. He has chosen well the individuals and issues to include, and this makes for a good introduction to Baptist life. I hope this study will be a welcome addition in our homes and churches as we seek to remind those under our care of the grand history of which God has made us recipients.
—Jeff Straub, professor of historical theology, Central Baptist Theological Seminary